Have you ever looked out at your sloped yard and wished you could do something more with it? Uneven land makes it hard for you to build anything on top of it. Not to mention, sloped land goes hand-in-hand with soil erosion issues, especially here in Tennessee. Well, what if we told you that there is a way for you to turn your sloped property into flat, usable space? Just install a retaining wall!
Retaining walls offer a plethora of advantages that can transform your entire yard. By flattening out your property, you can help combat soil erosion issues. You can even enhance your property by building things like a patio on your new flat space—perfect if you have been looking to enhance your outdoor living area. Before you get started with installing a retaining wall on your property, we highly suggest working with a local landscaping company to ensure you are adhering to your local codes.
---
Retaining walls provide many functional benefits.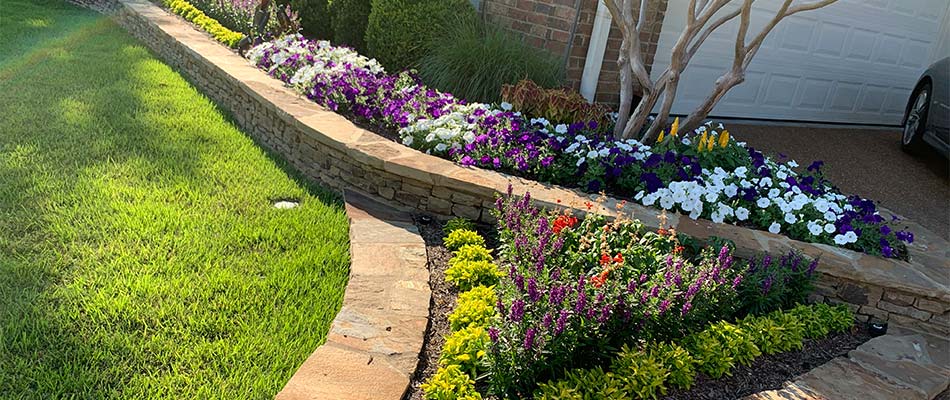 Installing a retaining wall on your sloped property brings numerous functional benefits with it. For example, retaining walls help combat soil erosion. Your soil is naturally displaced by elements like wind and rainwater, and when your yard is sloped, your topsoil is prone to travel downhill. By building a retaining wall, you're creating flat spaces for your soil to rest, which drastically reduces how much soil is displaced.
Additionally, retaining walls also help with drainage issues. Slopes can sometimes direct water to a place where it shouldn't be, such as near the foundation of your home. A retaining wall will flatten out the slope and ensure that water travels where it is supposed to.
---
Retaining walls are a stylish addition to your landscape.
In addition to being functional, retaining walls can also be stylish. For starters, you can select from a wide variety of materials so that it matches the rest of your outdoor living area design. Whether you prefer your new retaining wall to seamlessly blend in with the rest of your property or stand out as a focal point, both goals can be met!
Retaining walls also allow you to further enhance your landscape with new features due to the new flat space on your property. Use that new space to install a new patio. From there, you can add additional features like a fire pit or an outdoor kitchen. In no time, your property will become an outdoor oasis!
Retaining walls are the perfect way to incorporate a raised planter bed on your property.
---
Make sure your retaining wall falls within the guidelines of your local codes.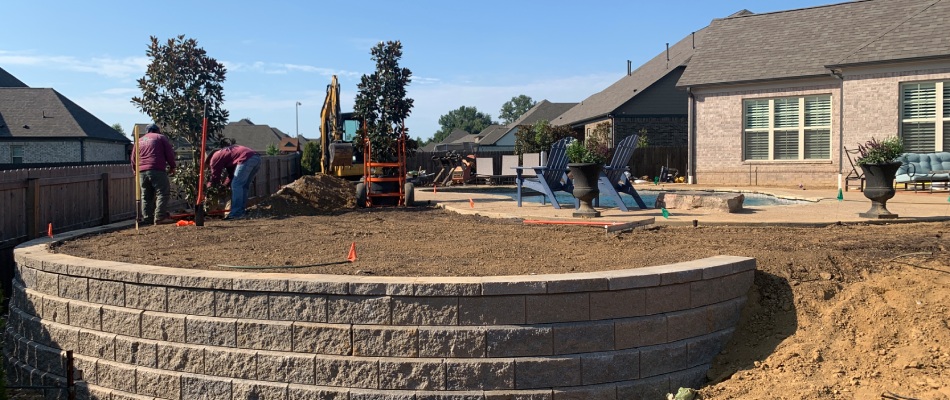 Depending on where you live, there could be certain rules detailing how tall your retaining wall can be. Some places may require you to get a permit before you start building it if it's going to be over a certain height. That is why it is best to work with a professional company when designing and building your retaining wall. Local landscaping companies build hundreds of retaining walls in the area, making them well versed in the local guidelines. You'll be able to rest easy knowing that everything is being done up to code.
---
Are you tired of your sloped yard? Give us a call today to install a retaining wall and transform your landscape!
If you want to do more with your sloped yard and solve your soil erosion issue, a retaining wall is a perfect solution. At Picture Perfect Landscapes, our team will work closely with you to build a retaining wall that's perfect for your property. We service commercial, HOA, and residential properties in Memphis, TN, and surrounding cities like Midtown Memphis and East Memphis. Call us today at (901) 246-7656 to transform your landscape with a retaining wall.