Pergola & Pavilion Installation Services in Memphis, Midtown Memphis, East Memphis, TN & Nearby Areas
We will help improve your outdoor living area with pergolas and pavilions made out of treated wood.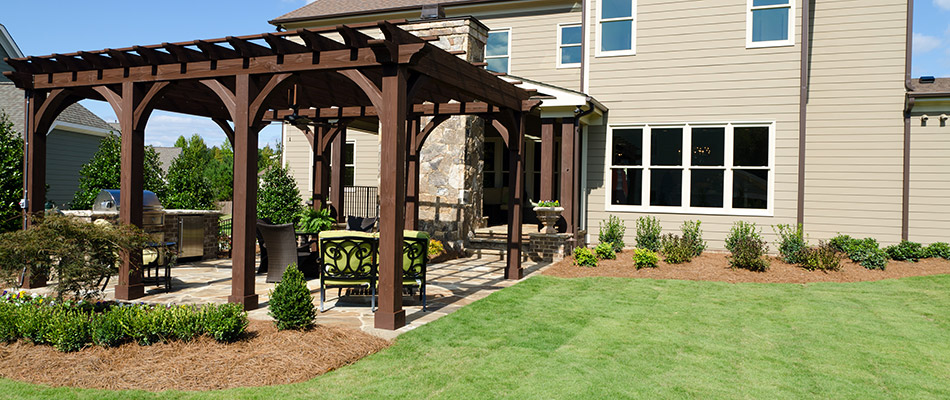 You deserve to enjoy spending time in your outdoor area any time that you want. However, if the sun becomes too much to bear or it starts raining, you may be forced indoors sooner than you would like. At Picture Perfect Landscapes, we can help you get the most of your property, even when the weather isn't ideal, by installing a pergola or pavilion on your property. Because your pergola or pavilion will be subjected to different weather elements, we use treated wood to protect the structure from decay, insects, and wood rot.
If you're having trouble choosing between these two options, don't worry! Our designers can walk you through the benefits of each one and help you choose the option that's right for you. What's more, we also offer outdoor lighting that can beautifully illuminate these structures so you can enjoy them at night. We offer our services to properties in Memphis, Midtown Memphis, East Memphis, TN, and nearby areas.
---
We Use Treated Wood to Make Pergolas & Pavilions
At Picture Perfect Landscapes, we build all of our pergolas and pavilions out of treated wood. This treated wood is resistant to decay, insects, and wood rot, so you can be sure that your new outdoor structure will be built to last. Depending on your preference, the treated wood can be stained or painted! Your pergola can match the rest of your outdoor living space.
---
Choosing Between a Pergola & a Pavilion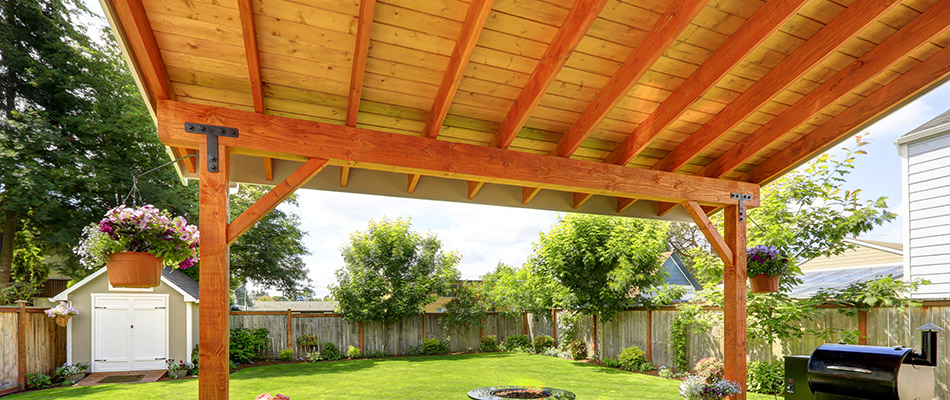 Both structures undeniably extend your outdoor living space and improve the aesthetics of your property. However, pergolas and pavilions each have unique features that set them apart. Here are some of their characteristics that can help you choose between a pergola and a pavilion:
Pergola: Pergolas are smaller than pavilions, making them more of a statement piece for your outdoor living area. It has a cross beam roof that provides partial shade while still letting some sun through.
Pavilion: A pavilion is larger and takes up a lot of space, which is why this is the better choice if you like to entertain many guests. It also has a full roof, giving you better protection from the elements.
If you're still not set on what to get, our expert designers can help you choose. Our professionals are trained and experienced, so you can rely on us to give you sound advice on what to install on your property.
---
Adding outdoor lighting allows you to use your pergola or pavilion even at night.
The darkness should not stop you from using your pergola or pavilion at night. We offer outdoor lighting installations that can beautifully illuminate your pergola or pavilion after the sun has set. We use high-quality LED lights for all of our outdoor lighting projects, and you'll be able to choose from a variety of different colored lights, allowing you to choose a color that meets your aesthetic preferences.
Our LED lights are energy-efficient and use a lot less energy than traditional light bulbs.
---
Call our pros today to schedule our pergola and pavilion installation services!
Whether you choose to install a pergola or a pavilion, there's no wrong choice since both outdoor features will make your outdoor living space more enjoyable for you and your guests. We are thrilled to offer our services to commercial and residential properties in Memphis, Midtown Memphis, East Memphis, TN and nearby communities. Call us today at (901) 246-7656 to schedule!