We Offer a Variety of Lawn & Landscaping Services in Bartlett, TN
Our services include lawn care and maintenance, pest control, landscaping, and much more.
Bartlett, TN is one of the premier cities in Shelby County and is located northeast of Memphis. It covers about 23.42 square miles and is home to over 59,000 people. While Bartlett has the feel of a small town, it is actually the second biggest city in Shelby County. Just a short drive away from Memphis, you can enjoy the nightlife and restaurants on Beale Street or visit Graceland.
With Bartlett being such a beautiful city, property owners here want to keep their lawns and landscapes in pristine condition. At Picture Perfect Landscapes, we have been offering our lawn and landscaping services to the Bartlett, TN community since 2002. We offer lawn care and lawn maintenance, landscaping, hardscapes, pest control, and irrigation services. We also offer a drainage and grading service, as well as holiday lighting.
---
We Offer a Large Selection of Lawn Care & Maintenance Services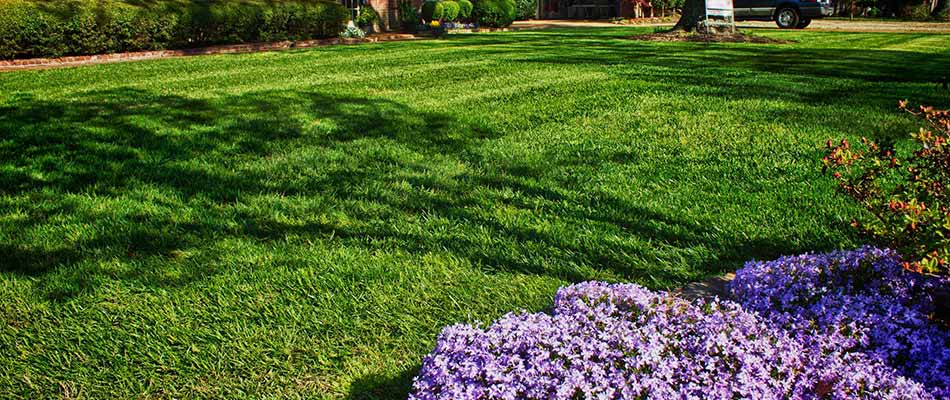 Lawn mowing is a maintenance task that needs to be done regularly to ensure that your grass does not grow out of control. We will mow your property once per week from April until October. We also provide spring cleanup and fall cleanup services to prepare your yard for either the growing season or the winter season.
In order for your grass to grown strong and healthy, it will need to receive essential nutrients, water, and sunlight. Your lawn will also need to be free of weeds so that your grass doesn't have to fight for those essential resources. Our fertilization and weed control lawn care program will ensure your grass receives all of the nutrients it needs while staying weed-free.
If the soil on your property is compacted, nutrients will have trouble reaching the roots of your grass. Our core aeration service will loosen your soil, making it much easier for nutrients to reach your roots. If you have bare spots on your lawn, you can take advantage of our overseeding service directly after aeration. This service involves us spreading grass seeds across your lawn to improve your lawn's density.
If you need a new lawn from scratch, we can help! Our new lawn seeding service includes growing you a new lawn from scratch with premium grass seeds. If you are looking for an instantly green lawn, we also offer sod installation which involves rolling pre-grown grass onto your soil.
If your lawn develops any lawn diseases or becomes infested with any lawn insects, we can help with that too. We will be able to identify any problems and provide you with solutions to take care of them.
---
Take Advantage of Our Landscaping Services
Having a nice landscape is very important when it comes to the curb appeal of your property. We offer landscape design services to help you create a beautiful landscape as well as a full-service landscape maintenance program to make sure your gardens and plants stay looking great. Our other landscape services include plantings and renovations, mulch installations, outdoor lighting, trimming and pruning, annual flower installations, tree and shrub fertilization, tree and shrub insect disease control, and a landscape bed weed control program.
Some common annual flowers that we install include coleus, impatiens, geraniums, vinca, pansies, and much more!
---
We can install custom hardscapes like fire pits, retaining walls, and outdoor kitchens.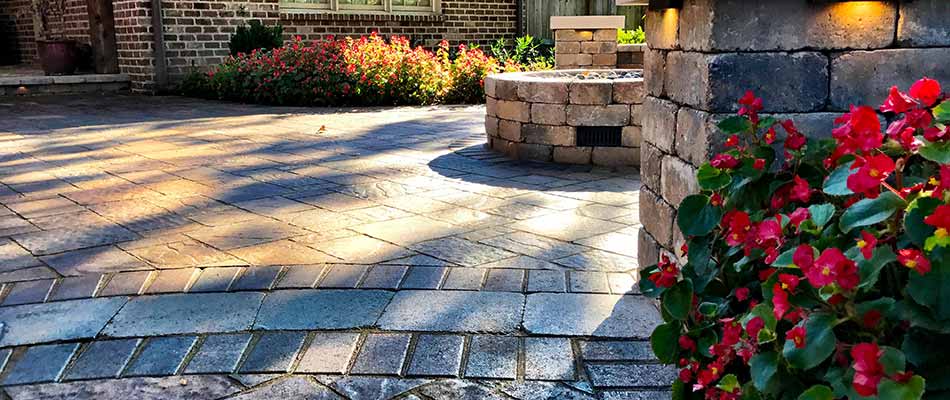 Nothing adds to the beauty and enjoyment of your property quite like a custom hardscape. At Picture Perfect Landscapes, we can install a variety of custom hardscape options including fire pits, fireplaces, patios. walkways, retaining walls, outdoor kitchens, pergolas, and pavilions.
---
Premium Pest Control Services
Nobody likes having bugs get inside of their home or business, which is why we offer a perimeter pest control service that is designed to keep spiders, ants, cockroaches, and more out. We also offer a grub control service to eliminate these destructive bugs from your property so they can't destroy your lawn. What's more, we also offer a mosquito control service to rid your property of these insects so you can enjoy your outdoor area in peace.
---
We Can Handle All of Your Irrigation Needs
Irrigation systems are an important component of any lawn, as they provide the necessary water that lawns need to flourish. We offer a variety of irrigation system services including irrigation installation, start-up and backflow testing, winterization, and irrigation repair.
---
We also provide drainage and grading as well as holiday lighting.
If your property becomes flooded, it can kill your lawn and plants. Our drainage and grading service will help to prevent flooding on your property by directing water off of it. We also offer a holiday lighting service. This service includes the hanging of your holiday lights, as well as the removal and storage of them after the holidays are over.
---
Schedule your lawn and landscaping services with us today.
When you're looking for a company in the Bartlett, TN area you can trust to provide exceptional lawn and landscaping services, we are the company to turn to. We've been providing services to the Bartlett community since 2002 and in that time have earned a reputation as a company that goes above and beyond to provide exceptional service. Give us a call today at (901) 246-7656 to sign up for our services.