Professional Lawn & Landscaping Services in High Point Terrace, TN
Our highly rated lawn and landscaping services include fertilization, spring cleanups, hardscaping installations, and much more!
Located in the heart of Memphis, High Point Terrace, TN garnered its name from being the highest point between the Mississippi River and the Wolf River at the time an active railroad was running through it. That rail bed is now a paved exercise trail called the Memphis Greenline, a change that perfectly represents the resourcefulness and ingenuity of the residents in High Point Terrace.
We've been serving residential, commercial, and HOA property owners in and around High Point Terrace, TN for 19 years! With services ranging from lawn care to pest control, landscaping, and more, we are a reliable resource for the communities we serve and always strive to provide the best service available. We'd love to hear what you have in mind for your property and how we can make it happen, so don't hesitate to call us at (901) 246-7656 for a quote!
---
Keep your lawn well-manicured and healthy with our lawn services.
Our fertilization program will include organic-based, liquid fertilizer as well as weed control treatments to help your lawn thrive. Services like core aeration and overseeding will ensure that your soil is not compacted and that any bare spots in the lawn are filled out with healthy grass. If your lawn needs a full renovation, we offer many new lawn services including new lawn seeding, sod installation, and artificial turf installation that will get your lawn looking beautiful in no time!
For high-quality maintenance, our lawn mowing program will keep your grass cut at optimal height throughout the year. For a full reset in your lawn, we offer spring and fall cleanups which will include debris, leaf removal, edging, and more.
Our lawn disease control treatments will protect your lawn from diseases like brown patch, dollar spot, fairy ring, and more.
---
Our Hardscape Installations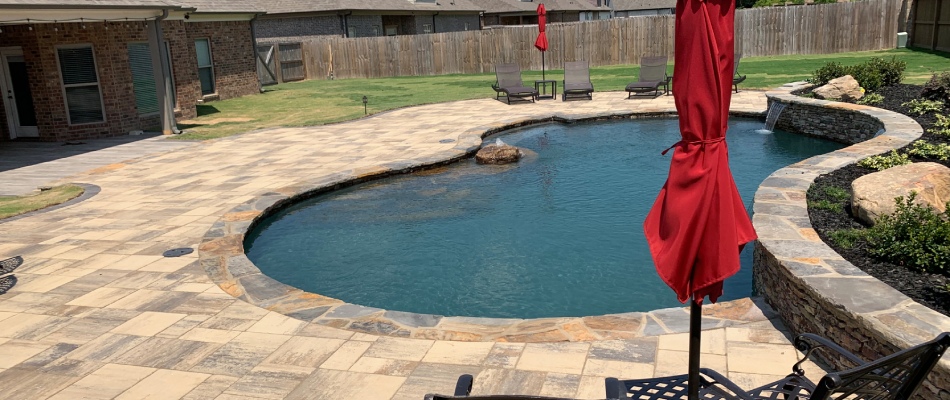 To get the most out of your landscape even in chilly weather or during nighttime hours, we can install an outdoor fire pit for a warm ambiance and landscape lighting to illuminate your property. We can also design and install hardscapes like patios, walkways, and outdoor steps to add flow and function to your landscape. Our outdoor kitchen installations can elevate your hosting game with amenities like grills, fridges, pizza ovens, wine coolers, and more!
---
Our pest control services target grubs, cockroaches, mosquitos, and more.
Keep your property pest-free with our perimeter pest control that combats spiders, earwigs, ants, cockroaches, and more. For targeted control against mosquitos, fleas, and ticks, we'll thoroughly treat problem areas like landscape beds, brush, tall grass, and other spots these insects love to hide. We can provide the same protective services for your lawn against troublesome pests like grubs, chinch bugs, armyworms, and fire ants so your grass can thrive!
---
Our Landscaping Services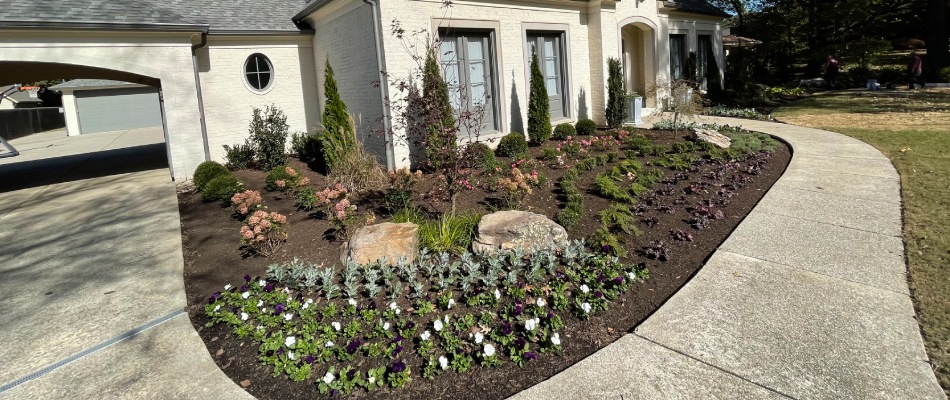 Our landscaping design process is meticulous, utilizing 2D or 3D design renderings to make sure the vision for your project is clear. If you're looking to add pops of color to your landscape, our annual flower service will outfit your property with seasonal blooms! For full rejuvenation of the plants on your property, our landscape plantings and renovations will use native flowers, trees, and shrubs to create low-maintenance beauty.
To keep it all as stunning as the day it was installed, we offer full-service landscape maintenance that includes mowing, trimming, pruning, mulch installation, and more. Our landscape bed weed control program will help keep weeds out of the picture so that your plants can shine! Your trees and shrubs will need support too, and our fertilization and insect and disease control programs will help them flourish in your landscape with all the nutrients and protection they need throughout the year. With your landscape well taken care of all year, come the holiday season, we can really make it the talk of the neighborhood with our holiday lighting service!
We offer drainage and grading services to help with standing water, including solutions like French drains, downspouts, and more!
---
We offer irrigation installations, start-ups, repairs, and other services!
We can install a smart irrigation system for you, giving you perks like remote control access from your phone and automatic watering schedule adjustments based on the weather. Our start-up service will include backflow testing, leak searches, and water distribution analysis among other services to ensure your system is operating at peak performance. To prepare your irrigation system for the winter, our winterization service will make certain your irrigation is properly shut off. Last but certainly not least, our professionals are well-versed in irrigation repairs for problems like clogged sprinkler heads, malfunctioning timers or controllers, burst pipes, and more.
---
Call today to schedule any of our lawn and landscaping services!
Your search for the perfect partner for your lawn and landscaping needs can end here! At Picture Perfect Landscapes, we offer several highly rated services to commercial, residential, and HOA properties in High Point Terrace, TN and nearby cities. Call (901) 246-7656 today to schedule your next service!