We offer grub controls services to properties in and around Memphis, Midtown Memphis, and East Memphis, TN.
We offer both preventative and curative grub control treatments.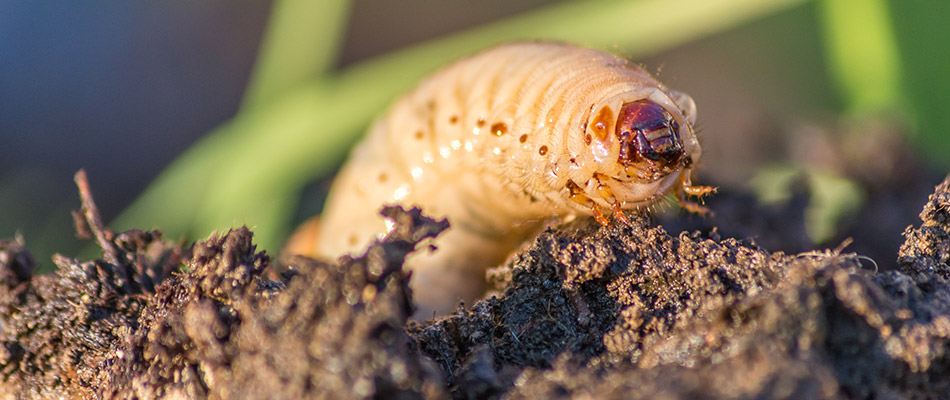 As a property owner in the Memphis, TN area, chances are you'll run into a grub problem sooner or later. Grubs are a common issue here, which is why our company offers preventative and curative treatments to the Memphis area as well as surrounding locations like Midtown Memphis and East Memphis.
Grubs will hatch and wreak havoc on your lawn in the warm summer months, starting in July and usually last until September. We apply our preventative treatment beforehand to try and catch them before they hatch. If you waited too long to schedule preventative grub control and you begin to see signs of their damage, our company offers curative treatments as well.
---
When should you schedule preventative grub control treatments?
Grubs are larvae from different types of beetles. When the eggs hatch, grubs will feast for a long summer of ample food and protection under your soil. They travel through your lawn, eating the roots of your grass until there is nothing left to feed on.
Our preventative treatment will create a barrier around your property, stopping the grubs from surviving the hatching or dormant phase. Grubs do the most damage in July, August, and September. Because of this, most companies offer their preventative services in June. Why wait so long? At Picture Perfect Landscapes, we offer our grub control treatments in May so that you can get ahead of the game and protect your lawn before grubs even think about making their way to your lawn.
---
Our Curative Treatments Will Stop Grubs in Their Tracks
Oh, no! Have grubs already hatched in your lawn and caused some damage? No worries - we offer curative grub control treatments as well. Unfortunately, these treatments won't restore the lawn damage that has already been done, but we can prevent the grubs from continuing to wreck your lawn. We do offer services such as core aeration and overseeding that will help get your grass back to looking bright, green, and healthy.
5-Star Grub Control in Memphis, TN & Nearby Areas
NALP Member
ISA Certified Arborist
Belgard Authorized Contractor
ICPI Training
Get a Quote for Grub Control
How to Tell If Your Lawn Has Grubs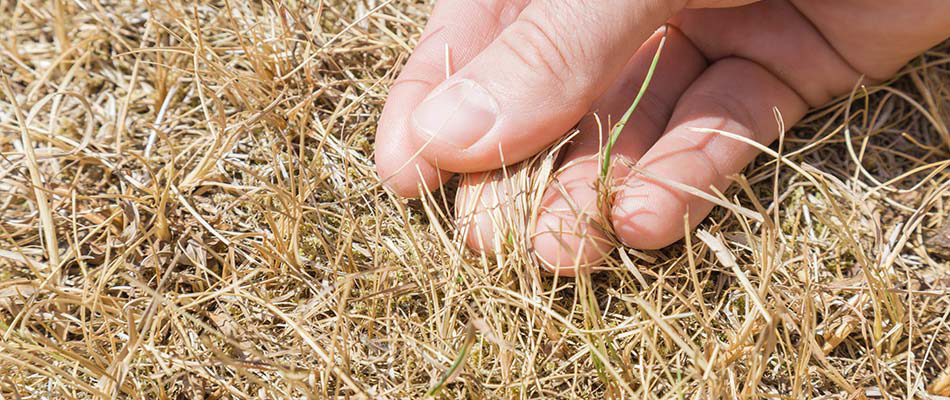 There are a variety of signs that point to grub infestations. Some of them include:
Brown patches of grass - If you see brown patches in your lawn, it doesn't necessarily mean that you have a grub problem. Dead grass could be a result of under watering, lawn disease, or several types of insect infestations. However, if it is paired with other grub damage signs, it is likely that you have a grub infestation.
Dead grass that rolls up like a carpet - Since grubs feed on your roots, your grass will no longer have a strong hold on your soil. This means that it will lose access to essential nutrients and will let you roll it up easily almost like a carpet. This is a tell-tale sign of a grub problem.
Spongy grass - If grubs have made their way through your lawn, your grass will start to feel spongy due to the fact that they have fed on your roots and left your grass unanchored to your soil. This is another tell-tale sign of a grub infestation.
An increased presence of raccoons, skunks, and birds - Grubs are food for raccoons, moles, skunks, and birds. If you suddenly see an increase of them on your property, chances are they have learned that your yard is the place to grab a good meal.
---
Got grubs? Schedule our preventative or curative treatments today.
At Picture Perfect Landscapes, we have been providing grub treatments to the Memphis, TN area since 2002. We offer comprehensive protection to your property with our preventative and curative treatments. Whether you want to get ahead of the game or you think you're already dealing with an infestation, call us at (901) 246-7656. Our experts can either schedule you for preventative grub control or design your curative treatment plan to get your lawn back on track.