Our Company Offers Overseeding Services to Properties in & Around Memphis, Midtown Memphis, & East Memphis, TN
Our overseeding service includes a starter and slow-release fertilizer treatments for optimal results.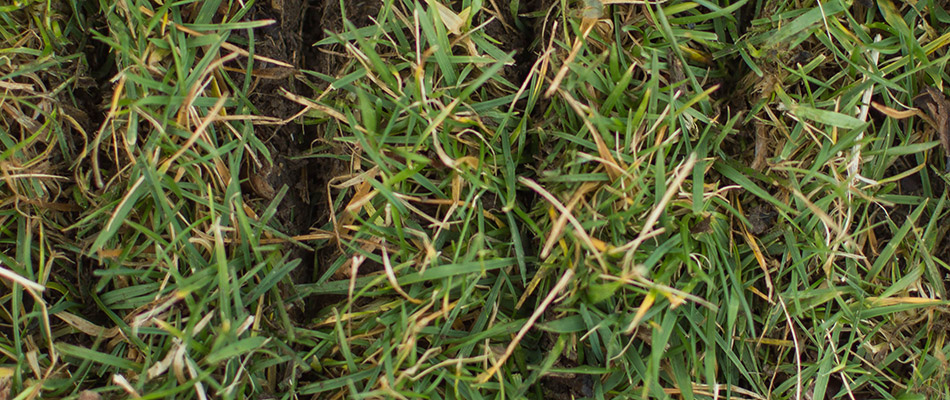 Most lawns can reap the benefits of overseeding. Our overseeding process breathes life into your lawn and transforms it from weak and patchy to thick and lush. We have been overseeding lawns in the Memphis, Tennessee area including Midtown Memphis and East Memphis since 2002. You can trust our experts to pick the correct seed blend and help you grow the lawn you have always dreamed of!
Unlike most companies, we won't just throw seeds on your property and call it a day. We go above and beyond by adding a starter fertilizer as well as a check-in 45 days later with a slow-release fertilizer treatment. You can trust us to take care of your lawn and treat it as if it were our own.
---
Our Overseeding Service Is a Five-Step Process
As simple as overseeding may sound, we have five different steps to our process. This will take you from beginning to end, protecting and encouraging your new seeds every step of the way.
Step One - Our experts will choose the type of seed we use on your lawn. We offer two different seed blends: tall-fescue and perennial rye.
Step Two - Before we even pick up any seeds to spread across your lawn, our crew will aerate your soil. During this process, we will poke holes all throughout your lawn, making it easier for the seeds to fall deep into your soil. This will create a much higher chance for seed germination.
Step Three - Once aeration has been completed, we can then spread the seed blend throughout your lawn.
Step Four - Our crew will apply a starter fertilizer before we leave, ensuring that the new seeds have everything they need to develop a strong root system.
Step Five - Nope, we're not done yet! After about 30 to 45 days, our team will check up on your lawn to see how it is doing. At this point, we will apply a slow-release fertilizer to give your grass one last boost.
5-Star Overseeding in Memphis, TN & Nearby Areas
NALP Member
ISA Certified Arborist
Belgard Authorized Contractor
ICPI Training
Get a Quote for Overseeding
When is the best time to overseed your lawn?
The success of your new seeds depends on the time of year that you schedule your overseeding service. Since we use cool-season blends including tall-fescue and perennial rye, it is best to overseed in the fall. We try to always schedule our overseeding services in September or October. This is because tall-fescue and perennial rye seeds thrive when there is cooler weather. If we were to plant these seeds in the heat of summer, they would be immediately stressed and would have a much lower chance of survival.
It is highly recommended that you overseed annually. The changing seasons throughout the year really take a toll on your grass and can weaken it as well as thin it out. If you don't keep up with overseeding every year, it will be trickier to replenish a lawn that is so far gone.
---
Grow a lush, thick lawn with our overseeding services.
At Picture Perfect Landscapes, we have been in the business of transforming and rejuvenating lawns since 2002. Leave it to our experts to help you grow the lawn you have always wanted. We offer our overseeding services to the Memphis, TN area, including Midtown Memphis, East Memphis, and Germantown. Chances are, you've already seen our logoed trucks and crew around town!
If you're ready for a lush, thick lawn, call our office at (901) 246-7656. We want to help you fill in those patchy areas and grow a lawn that you're proud of.