Our company performs core aeration for your lawn in or around the Memphis, Midtown Memphis, or East Memphis, TN areas.
Core aeration will give the roots of your grass better access to sunlight, water, and nutrients.
It can be frustrating to see a weak, patchy lawn even when you're doing everything you can to keep up with the watering and fertilization schedules. At Picture Perfect Landscapes, we see this issue happen a lot with our customers, so you're not alone! The cause of this common issue is most likely the fact that your soil is too compacted. To loosen up your soil and allow for better airflow, the solution is core aeration.
Core aeration will loosen up your soil and allow more sunlight, water, and nutrients to reach the roots of your grass. The best time of the year to do this depends on the type of grass that you have. For even better results, pair our core aeration service with overseeding to fill in your empty patches! We offer our core aeration service to properties in the Memphis, TN area including Midtown Memphis, East Memphis, and Germantown.
---
How will core aeration loosen up your soil?
Core aeration is the process of poking tiny holes throughout your lawn to help loosen up your compacted soil. Our machines will pull up 2-3 inch cores of soil from the ground, making it easier to reach farther down into your soil. Air, sunlight, water, and essential nutrients will then have much better access to the roots of your grass, resulting in strong and bright green grass blades.
Our crew will make multiple passes through your lawn to ensure that we hit every spot. Once we are finished, the cores of soil that are leftover should remain and will eventually break down and redistribute nutrients back into your lawn. To quicken this process, you can also go over the cores with a lawnmower to help them break apart faster.
5-Star Core Aeration in Memphis, TN & Nearby Areas
NALP Member
ISA Certified Arborist
Belgard Authorized Contractor
ICPI Training
Get a Quote for Core Aeration
The Best Time to Core Aerate Your Lawn Depends on Your Type of Grass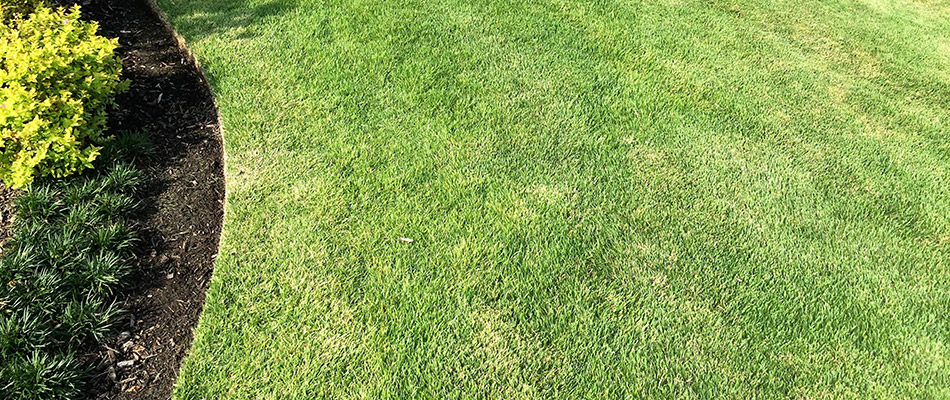 It is extremely important to know the type of grass our clients have before performing core aeration. The Memphis, TN area has both warm and cool-season grass, so we must identify the type before scheduling the service. Since core aeration pulls up your soil, it can be disruptive and harmful for a lawn that is already struggling to survive the weather of that time of year.
If your lawn has warm-season grass, our crew will core aerate your lawn around May or June. This is because your grass is thriving in those warmer months! It is at its strongest and is able to handle a little bit of soil disruption.
If your lawn has cool-season grass, our crew will core aerate your lawn around September or October. As you can probably guess, cool-season grass is at its strongest in the cooler weather. So, waiting until fall is best because your grass will be at optimal strength and will be able to handle core aeration.
It is recommended to schedule core aeration annually to ensure that your soil never gets too compacted.
---
Upgrade Your Core Aeration Service With Overseeding
Overseeding is the process of spreading extra grass seeds throughout your lawn. The purpose of this is to fill in the weak and patchy areas. To get the best results from this, schedule overseeding directly after core aeration. The extra seeds will fall into the soil holes and have a much better chance of germinating and successfully growing a strong root system, leaving you with the lush, thick lawn you have always wanted.
---
Increase the Odds of a Perfect Lawn With Our Core Aeration Service
Having trouble getting your lawn to grow even though you are regularly watering and fertilizing it? Chances are your soil is too compacted. We have been performing core aeration for your neighbors in the Memphis, TN area since 2002. We also service nearby locations including Midtown Memphis and East Memphis. Call us today at (901) 246-7656 to request a quote.