Our company offers fertilization services for properties in and around Memphis, Midtown Memphis, and East Memphis, TN.
We use organic-based, liquid fertilizer treatments that are customized to your grass type.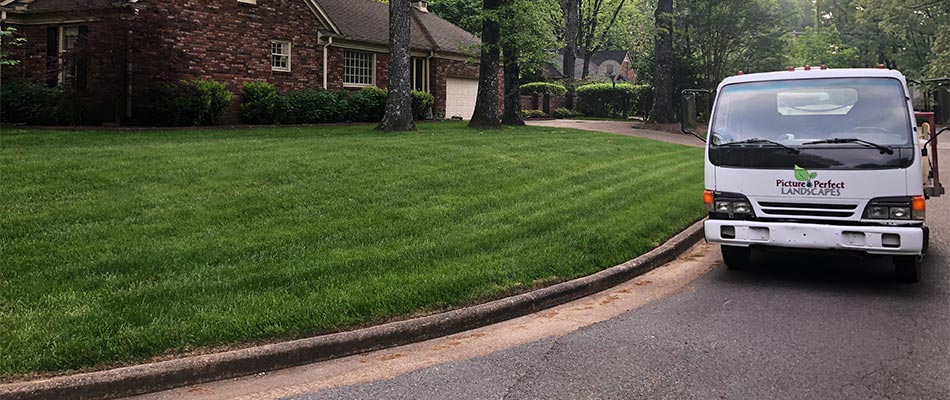 Enrolling in a fertilization program is one of the easiest ways to give your lawn the nutrients it needs to survive the changing seasons. The Memphis, TN area has both cool and warm-season grass types, each one having its own needs at certain times of the year. That is why our organic-based, liquid fertilizer programs are tailored to meet the needs of your specific grass type to ensure that your lawn is getting what it needs depending on the time of the year.
We offer fertilization programs for properties that are located in or around Memphis, TN, including Midtown Memphis, East Memphis, and Germantown.
---
Liquid Fertilizer is Fast-Acting & Allows for Uniform Applications
At Picture Perfect Landscapes, we always use organic-based, liquid fertilizer products. Liquid fertilizer acts faster when compared to granular fertilizer. This is because it penetrates the soil immediately instead of slowly breaking down and releasing the nutrients gradually. Your plants will be given faster access to nutrients, meaning that you will see faster results.
Liquid fertilizer also allows for a uniform application. We use a hose to spread the fertilizer, giving us control over where it is applied. This results in an even and consistent coating of fertilizer throughout your lawn. With liquid fertilizer, you won't have to worry about some spots on your lawn receiving more nutrients than other spots.
5-Star Fertilization in Memphis, TN & Nearby Areas
NALP Member
ISA Certified Arborist
Belgard Authorized Contractor
ICPI Training
Get a Quote for Fertilization
Our Fertilizer Program Protects Your Lawn Through Every Season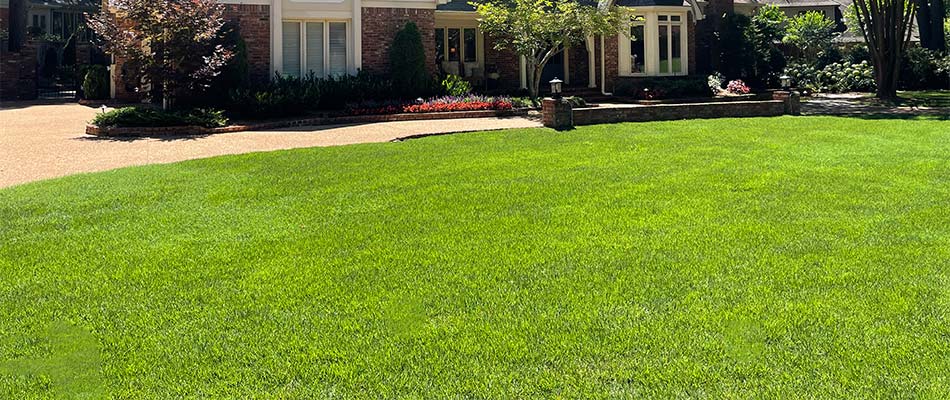 When you sign up for our fertilization program, you are signing up for year-round protection. We apply our first treatment in early spring to get a jump-start on the growing season. Most companies end their fertilization program in late fall, however, we run our program all the way into the winter months. Below is an outline of the extensive protection you get when you sign up for our fertilization program.
Early spring - Our first application of the season is a Holganix treatment. Holganix fertilizer is an organic-based product that gives your soil over 800 species of microbes that encourage great soil health. Holganix fertilizer also improves your grass's resilience against stressors like foot traffic and lawnmowers, all while boosting grass root development.
Mid-spring - The growing season is starting to ramp up at this time, so we apply a slow-release liquid fertilizer to give the roots of your grass an extra boost. Our crew also applies another round of Holganix fertilizer.
Late spring - With the heat of the summer well on its way, we repeat more applications of slow-release and Holganix fertilizer. Next, we introduce a new Holganix product called PB1, which focuses on improved grass color, plant resilience, and nutrient uptake.
Mid-summer - At this time, we do a repeat of our treatment from late spring with the slow-release fertilizer, our normal Holganix fertilizer, and the PB1 application.
Late summer - Our late summer treatment includes a different slow-release fertilizer that is high in potassium. This encourages strong root development and prepares your grass for winter dormancy. We also apply another treatment of our normal Holganix fertilizer.
Winter - To wrap up the year, our crew will make a visit one last time to apply a granular lime treatment. This will help correct the pH levels in your soil and help protect your grass throughout the rest of the winter months.
---
We care for your lawn year-round - enroll in one of our fertilization programs today.
At Picture Perfect Landscapes, we have been fertilizing cool and warm-season grass types since 2002. We know exactly what your grass needs at exactly the right time. You can trust our in-house liquid fertilizer to give you better results than any big-box store. If your commercial or residential property is located in Memphis, Tennessee or in a nearby area such as Midtown Memphis or East Memphis, give our office a call today at (901) 246-7656 to enroll in one of our fertilization programs.