Comprehensive Lawn & Landscape Services in Central Gardens, TN
We've been serving the community in and around Central Gardens, TN since 2002!
Conveniently located just a few minutes from Memphis attractions, Central Gardens, TN is a beautiful front porch neighborhood where residents can connect and enjoy each other's company. One of the biggest events of the year is the July 4th parade, where people create costumes, make floats, and set up tables for great food and snow cones. The parade brings together the best parts of Central Gardens and its residents, creating special memories for all ages!
We're honored to provide the people in and around Central Gardens, TN with stellar lawn and landscape solutions. Our services include lawn care, pest control, irrigation, hardscaping, and more! With our team on the job, you can be confident that your lawn and landscape are in the best hands.
---
Our Lawn Care & Maintenance Services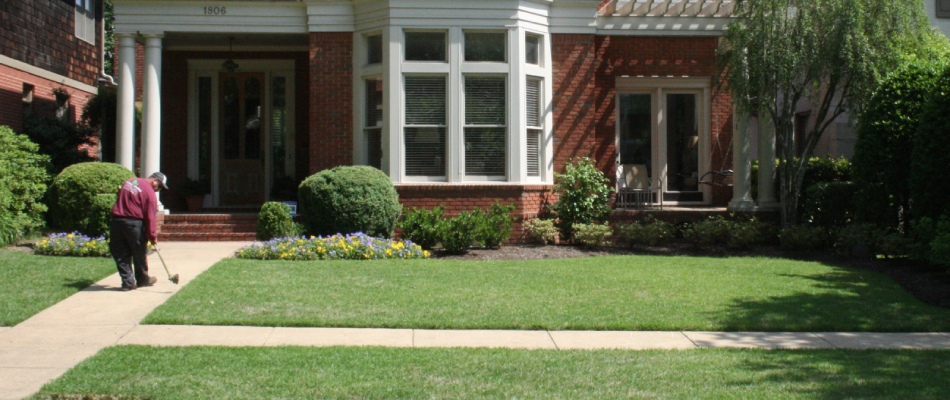 To keep your lawn nourished and cared for year-round, our fertilization and weed control program will supply essential nutrients to your grass while keeping resource-thieving weeds at bay. Core aeration will give the roots of your grass better access to nutrients as well as sunlight and water. We also offer overseeding to fill any bare spots in your lawn with healthy grass! And if your lawn is ever threatened with a disease, our lawn disease control will come to its rescue, well-equipped against brown patch, fairy ring, dollar spot, and more.
For a tidy and well-manicured property, we offer several maintenance services, including our lawn mowing program that runs from April through October. Our spring and fall yard cleanups will combat debris and leaves so your property looks stunning! For any additional maintenance needs, our leaf removal service will do the trick, keeping your property leaf-free and safe from pests, lawn diseases, and more that could use leaf piles to fester.
---
Professional Landscaping Services
When it comes to landscaping, we're the local experts. To solve your standing water problems, we offer drainage and grading services including the installation of French drains, downspouts, catch basins, and more. Our landscape design services include an initial consultation where we'll make sure we understand your vision to create the perfect design. Our landscape plantings, renovations, and annual flower offerings can beautify your existing landscape with stunning color and visual interest. For a nice refresh in your landscape beds, look to our mulch installations and landscape bed weed control services. We also offer full-service landscape maintenance which will include mowing, a spring cleanup, trimming and pruning, and more!
To care for your foundational landscaping plants, we offer tree and shrub fertilization as well as insect and disease control that will protect against threats like powdery mildew, grey mold, lace bugs, bagworms, and more. Our services will make sure your plants are prepared for every challenge the seasons bring.
We offer outdoor lighting to illuminate your landscape as well as holiday lighting to spread holiday cheer!
---
We can install hardscapes like fire pits, patios, outdoor kitchens, and more!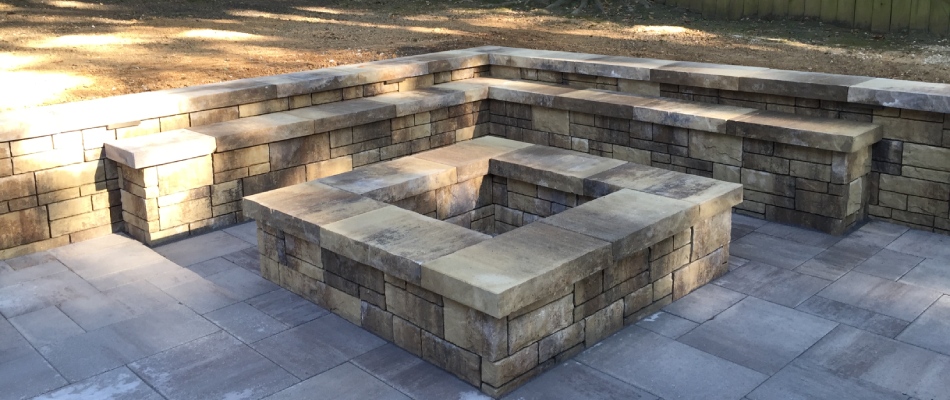 To enhance your outdoor space, we offer several hardscape services, including outdoor step installation and walkways for safe travel around your property. Our seating and retaining walls are the ideal combinations of form and function, with an outdoor fire pit or fireplace providing a central gathering point with a warm ambiance. Our patio and outdoor kitchen installations are perfect for cultivating an outdoor area that feels like a true extension of your home.
---
Our Comprehensive Pest Control Services
Insects like ants, wasps, cockroaches, spiders, beetles, and more will be a problem of the past after our perimeter pest control service. We offer a program to keep mosquitos, fleas, and ticks out that runs from April through October. Our lawn insect control can protect your lawn against common pests like grubs, chinch bugs, armyworms, and fire ants. Bugs won't stand a chance against our services!
---
Our irrigation services include installation, winterization, repairs, and more.
For an irrigation system that perfectly balances hydration for your plants with water conservation, look no further than our irrigation installations. As irrigation experts, we're also well-versed in start-up and backflow testing to properly prepare your system for the intense summer months it'll be working overtime. Our irrigation winterization service will properly decommission your irrigation system over the colder months. And if a pipe ever breaks or a sprinkler head gets clogged, our irrigation repairs will get your system back up and running like new in no time!
---
Call today to schedule any of our lawn and landscape services!
At Picture Perfect Landscapes, our commitment to you is that for every service we offer, we'll give it our all. It's not in our nature to shoot for anything less than above-and-beyond service! We provide lawn and landscape solutions to commercial, residential, and HOA property owners in Central Gardens, TN and nearby cities. Call our team at (901) 246-7656 today to schedule your next service!