We Offer Lawn Mowing Services to Properties in & Around Memphis, Midtown Memphis, & East Memphis, TN
Our lawn mowing service includes string trimming, edging, blowing off debris, and spot spraying.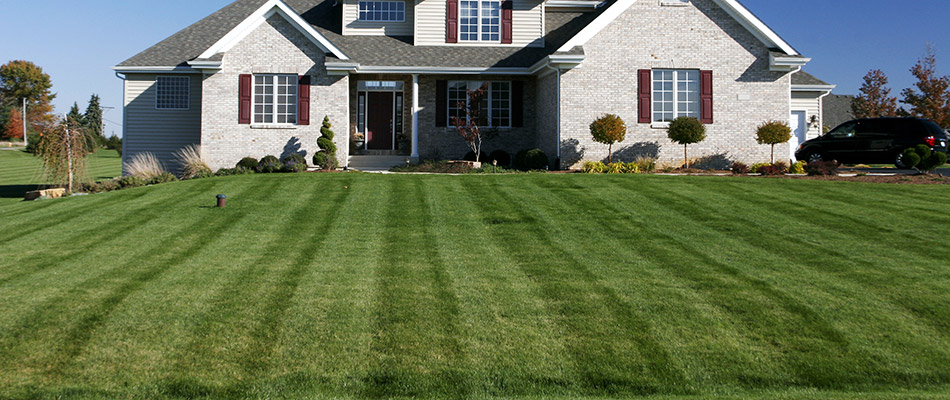 Whether you're a business owner, a homeowner, or both, you probably have enough on your to-do list without having to think about maintaining your lawn. You know cutting your grass should be a weekly task, yet, you're not sure when you will find the time.
That is where our team comes in! We want to help you take lawn mowing off of your to-do list so that you can focus on more important things like your business and your family. Enrolling in our mowing program means weekly crew visits, string trimming, edging, blowing the debris off of your property, and spot spraying. You can trust our experts to do everything we can to take care of your lawn in the process such as rotating our mowing patterns and adjusting our deck height.
We offer our lawn mowing program to both commercial and residential properties in Memphis, TN, as well as surrounding areas such as Midtown Memphis and East Memphis.
---
How long is the lawn mowing season?
Our lawn mowing program runs from April first all the way up until the end of October, keeping your grass pristine from spring until fall. We offer weekly crew visits as opposed to biweekly because we follow the one-third grass cutting rule. This means that our crew will only cut one-third off the top of your grass blades every time we visit, ensuring that we do not impair the root growth by cutting too far down the blade. If we wait to mow your lawn until two weeks have passed, your blades will be much longer and we won't be able to cut your grass down to the desired height.
5-Star Lawn Mowing in Memphis, TN & Nearby Areas
NALP Member
ISA Certified Arborist
Belgard Authorized Contractor
ICPI Training
Get a Quote for Lawn Mowing
We include string trimming, edging, debris cleanup, and spot spraying in our lawn mowing program.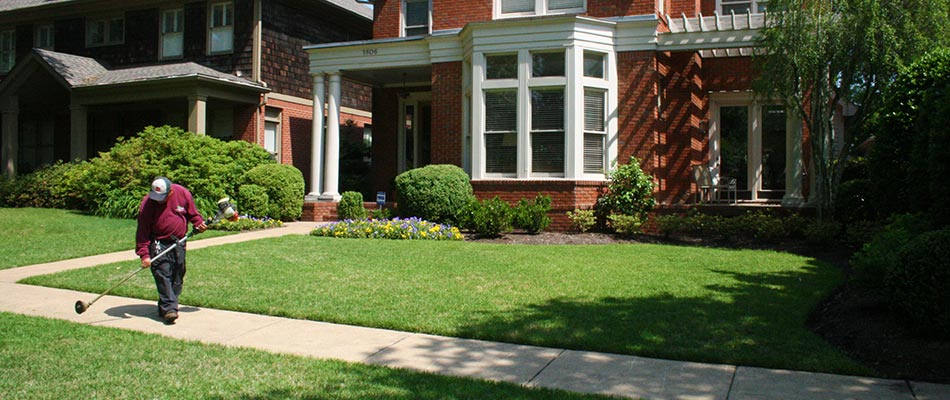 Our lawn mowing program is comprehensive, including everything from string trimming to spot spraying. We go above and beyond each week, ensuring that there is no debris left on your driveways or walkways. Below is a description of each service that is included when you sign up for our weekly lawn mowing service:
String Trimming: We will tidy up the overgrown areas of your lawn that our lawnmower can't access.
Edging: It is easy for your landscape beds and walkways to look messy with overgrown grass around the edges. Our crew will go through and cut around all those edges to create a clean look throughout your property.
Debris Cleanup: We will use a leaf blower to clean off your driveways, sidewalks, walkways, or steps that grass clippings have cluttered.
Spot Spraying: Lastly, our crew will spray the edges of your driveways and walkways as well as their cracks to prevent weeds from growing there.
---
We always rotate our mowing patterns, adjust our deck height, and sharpen our mower blades.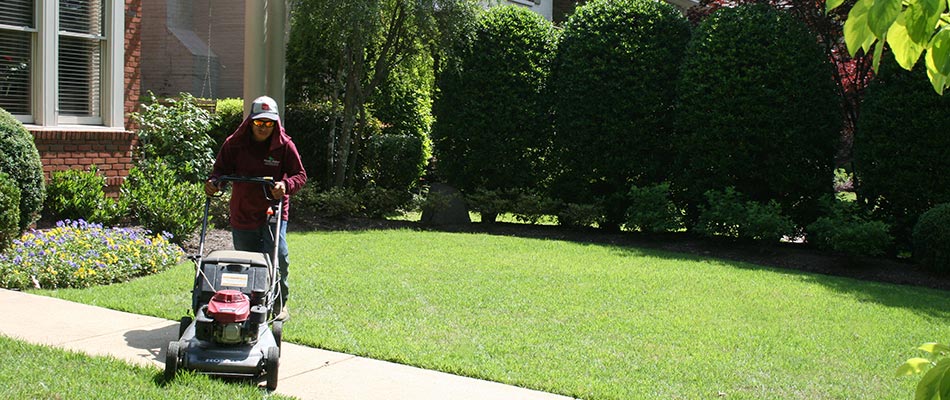 Although the task of lawn mowing seems pretty simple, there are a few mistakes that are easy for the average property owner to make. Hiring a professional team like ours will ensure that there are no subtle mistakes being made that will cause future problems and damage.
We take care of your lawn by:
Rotating our mowing patterns. This protects your lawn from any ruts created from the lawnmower running over the same spot on your lawn every week.
Adjusting our deck height. We see a lot of fescue and bermudagrass types in our area. Each type requires our mower deck to be set at a different height. We take this into account to ensure that your grass is always cut correctly.
Sharpening our mower blades. It is so important to cut with sharp mower blades. Dull blades will pull and tear at your grass instead of a nice clean cut, leaving it weaker and more susceptible to lawn diseases and insect infestations.
---
Let us handle your weekly lawn mowing - enroll in our program today.
Ready to cross lawn mowing off of your to-do list indefinitely? Enroll in our lawn mowing program today so that you can spend your time doing more important things. We offer our lawn mowing program to commercial and residential properties in and around the Memphis, TN area including Midtown Memphis and East Memphis. Call our office today at (901) 246-7656 to sign up!