If you love the cool season, we have an idea to make you love it even more. Install a fire pit on your property! Fire pits are fire features that add warmth to your outdoor living space. There are different material options you can choose from to build your fire pit and create a statement piece on your property or make it blend well with the rest of your landscape design.
You can also choose whether to use wood or gas to create a fire, but make sure you consider the pros and cons of both.With the satisfaction fire pits can provide you, it's no doubt these fire features will increase your property value. Learn more about the benefits of installing a fire pit on your property.
---
Increase your property value while providing warmth with fire pits.
When the cool wind starts to blow, nothing beats the idea of warming up near a fire pit while cooking s'mores with your significant other or your family. Adding a fire pit right in the middle of your yard is the perfect way to provide warmth to your property. Just as how fire pits add warmth, these fire features are also one of the hottest additions you can make to your property. While investing in a fire pit will allow you to experience priceless and valuable moments with your loved ones, you can also expect your property value to increase when you add one to your property. Because of a fire pit, your home becomes more attractive to homebuyers!
---
Different Material Options Provide Aesthetic Appeal & Durability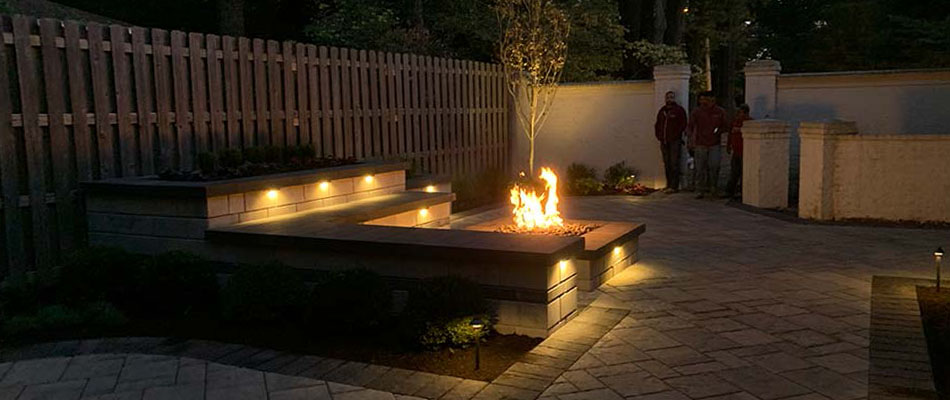 There are many material options you have when you install a fire pit. Depending on the material and your style, you can create a stunning fire pit that seamlessly blends into your existing landscape or stands out on your property so it becomes a natural focal point. Check out these material options for building fire pits that boost your property's aesthetic appeal:
Natural stone
Boulders
Stacked stone
Concrete pavers
These materials have their own level of durability, giving you a longer-lasting fire pit to enjoy for years of chilly weather. No matter what you choose among these options, make sure you give them the basic care and maintenance to keep them in their pristine condition.
You can also use the materials listed above to add a comfortable seating wall around your fire pit.
---
Choose Between a Gas-Burning or Wood-Burning Fire Pit
An important choice you have to make when installing a fire pit is whether to use gas or wood to make a fire. While both options are viable, they differ in many ways. We've laid down the differences between the two to help you choose between gas and wood.
Gas-burning fire pit: A gas-burning fire pit is more convenient as it will create a fire in just a moment. You don't have to worry about the hassle of storing and burning wood, and it's the cleaner option since gas fire pits don't create ash after you use them. You can also adjust how big the flames will be with a gas fire pit. However, routine inspection and maintenance are necessary to ensure there are no gas leaks.
Wood-burning fire pit: If you want the feel of a bonfire, a wood-burning fire pit is perfect for you. This fire pit creates a more outdoorsy and camping vibe, perfect for your adventurous family! Unlike gas fire pits, wood fire pits reduce the risk of an explosion. But falling embers can still cause an unwanted fire. Wood fire pits also produce ash and smoke, creating the signature scent of charred wood and the sound of a crackling fire. Plus, the smoke from burning wood is a natural bug repellant!
---
Contact us today to get a quote for our fire pit installation service!
With the cooler months fast approaching, today is the best day to start planning your fire pit installation. This fire feature will keep you warm and comfortable in your outdoor living space while increasing your property value! At Picture Perfect Landscapes, we offer fire pit installation services to homes and businesses in Memphis, Midtown Memphis, East Memphis, TN and nearby communities. With over 19 years of experience, you can expect exceptional service from our professional crew. Call us today at (901) 246-7656 for a quote!